Portland-flyer-final.pdf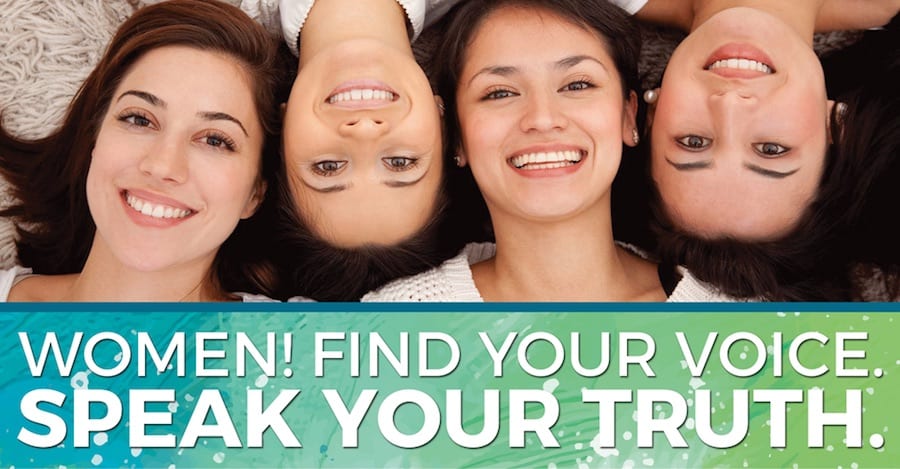 Do you bite your tongue instead of speaking what you really feel and think?
Do you swallow your needs and wants because you want to please others or are afraid of what they'll think?
Do you long to find your voice, speak your truth out loud, and be heard in your life, work, and relationships?
Do you block your message, dream, or purpose that's bubbling up and wants to rocket into the world as a force for change?
Your voice and power are essential ingredients for a remarkable life. When you stay silent, quiet, and small, you deny yourself and the world your feminine power. You, your relationships, and life purpose deserve more than crumbs — you deserve a feast of empowered possibilities.
Did you know your voice is the quickest route to your power? This workshop helps you find your embodied voice so you speak your truth, show up in your life, and make your dreams a reality.
If you want to:
ask for what you need and want in your life, work, and relationships
speak up and communicate clearly with friends, family, and lovers
take up space and stand in the spotlight
live your dreams, purpose, and message fully and authentically in the world
unapologetically express your gifts
then come, join us.
In this workshop, you will:
listen for, discover, and awaken your embodied voice and truth
risk saying what you really mean, and meaning what you say
transform your self-limiting beliefs into self-affirming ones
learn breath and sound practices that activate and energize your throat chakra
be supported, challenged, and inspired in a safe circle of women friends
Join us!
Dare to face and overcome your fears and self-doubts.
Invest in and claim your voice, truth, and power.
And live out loud — free, powerful, and true.
This workshop is for women only.
 SIGN UP for WOMEN! Find Your Voice. Speak Your Truth.
When: June 24th, 2017 10am-5:30pm
Where: In a beautiful and healing private residence in Portland, OR  (West side). Address given after you sign up.
Limited space: Only 15 women.
Investment: Early bird discount (before June 1): $75;  general (After June 1): $125
SIGN UP for WOMEN! Find Your Voice. Speak Your Truth.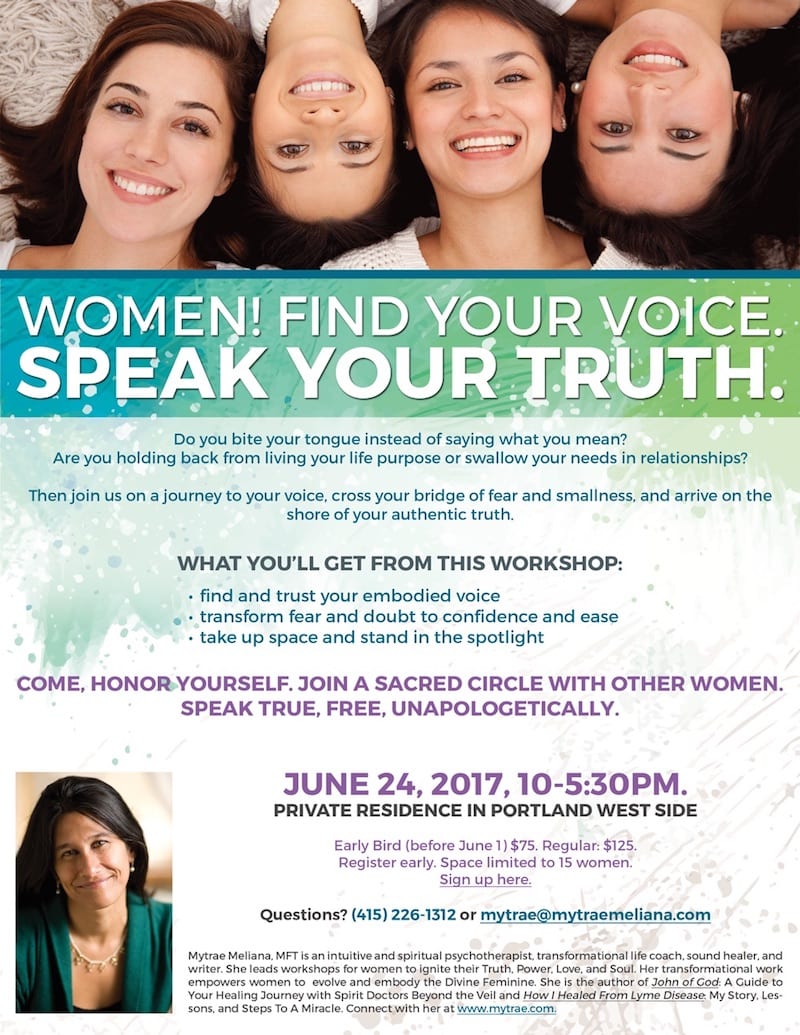 SIGN UP for WOMEN! Find Your Voice. Speak Your Truth.