Serenity_Sunday.pdf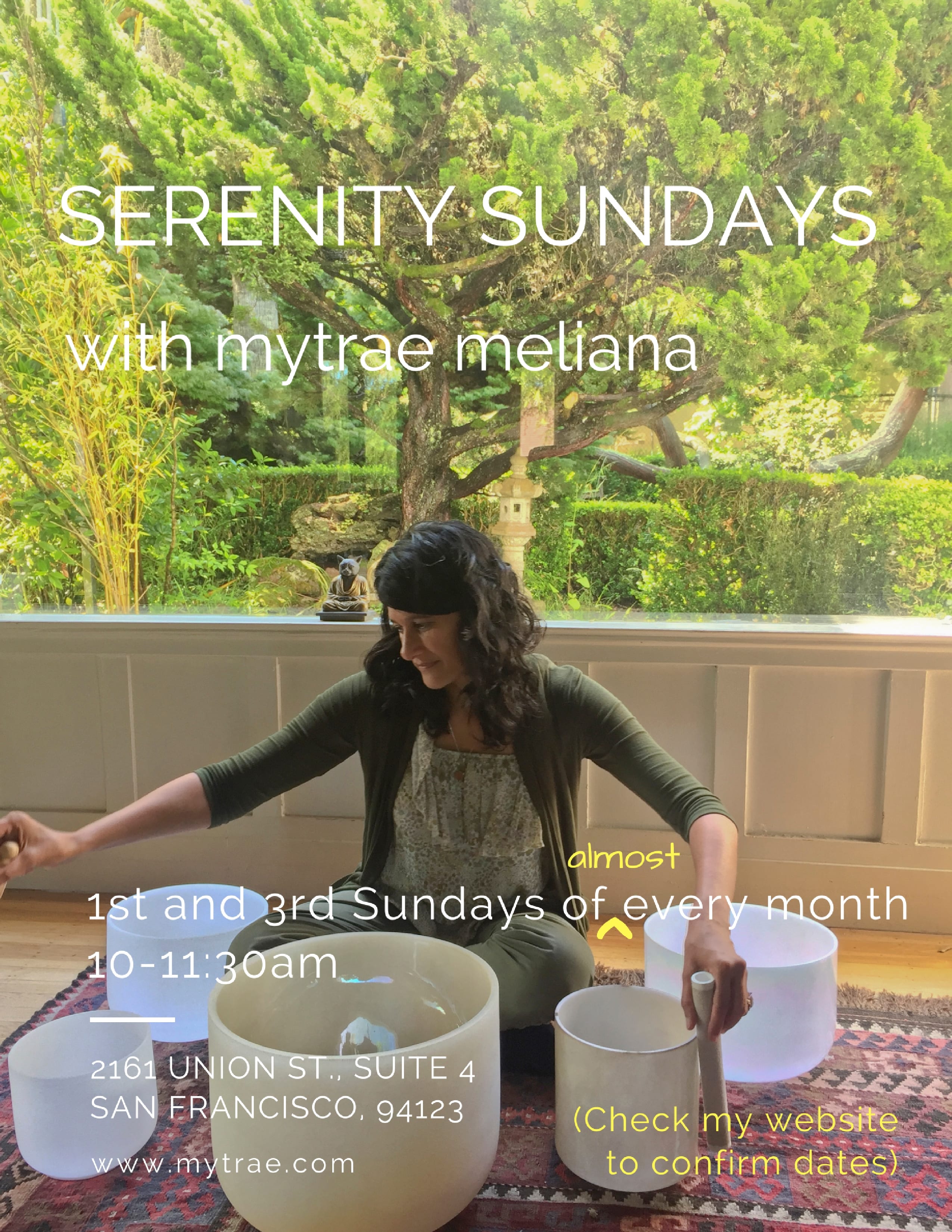 Serenity Sunday is…
A time for peace.
A time to go within.
A time for prayer.
A time for you.
A time to meet the Sacred without and within.
Why are we doing this?
So you can relax, recharge, and renew in your busy life
So you can drop everything for an hour or so to simply be in peace and invoke the Sacred
So help your body and mind heal if you have a physical or mental health issue
When we come together our intentions and prayers are more powerful than when we meditate or pray alone
Your thoughts, heart, and prayers raise the vibration for yourself, humanity, and our planet
What Serenity Sunday looks like:
Welcome and settling in
You write your intentions and prayers for yourself and others
We chant Om
We sit in meditation
You lie down to receive a crystal bowl sound healing
I might say a few words, read a poem, or say a prayer.
We share our experience (optional) and offer our prayers for Peace, Love, and Unity in the world
And… there's always room for the Sacred to come through in whatever way She / He does
Logistics
Serenity Sundays are on the 1st and 3rd Sundays of each month. (There will be a few exceptions each year when I am out of town, teaching, or in retreat.)
When: 1st and 3rd Sundays, 10-11:30 am PST
Confirmed dates for 2018:
January 21
February 4, 18
March 4, 18
April 1, 15
Where: 2161 Union St., Suite 4, San Francisco, CA 94123
(If you're not local and want to join, let me know. I'm considering opening it up for people to join us online.)
What to bring: a yoga mat, zafu or other cushion to be comfortable  on a hardwood floor, blanket if you want to cover yourself for the sound healing
Cost: $20. Cash only, please.
Hope to see you there!
Love and peace,